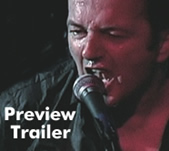 By Dick Rude
I first met Joe Strummer in 1986 during post-production on the film "Sid and Nancy." Our affinity toward each other was immediate. Over the years we acted in several films together and were present in each other's lives in a familial way. He was my friend, mentor and idol.
In 2001, before the release of "Global a Go-Go," the second record with his new band, Joe Strummer and the Mescaleros, we decided it would be fun to make a film together on the road and use it as an alternative means to get his new music out to the people. Filming took place over the course of his U.S. tours that year.
In October of 2002, Joe invited me to come to Japan with the band to do some more filming. His performance at that time was the best I had ever seen. One month later, we met in New York to host a music video show for MTV2. The next month he died suddenly of a congenital heart condition.
Shortly after that, I taught myself to edit and began to live in my memories. Every day, I would revisit the looks and laughs that we shared together. I decided to stay true to our original objective and keep it about the music, even though it had been suggested that I make something more biographical and posthumous.
During the production, Joe was often asked what we were filming for. His response was, "We're making a movie. Don't tell Dickie, but nobody is gonna wanna see this."
He was wrong.
It has been my blessing to share with the world, an intimate portrait of such a passionate and humble man. His love affected me profoundly.
Joe was a true hero. His music changed people's lives. I am proud of the story he has allowed me to tell
But I would trade it all in a heartbeat to have him back.