Get The DVD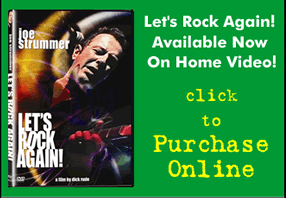 Preview Trailer
Preview Trailer (Windows Media)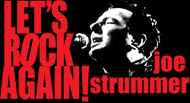 Let's Rock Again!
On the Sundance Channel
"Let's Rock Again!" was shown on the Sundance Channel
LET'S ROCK AGAIN! is a one-hour music documentary that follows rock icon Joe Strummer as he tours across America and Japan.
Strummer's main objective is simple — to get his music out to the people and get his record to break even so that he can have another chance to rock again.

After a montage of Strummer's glorious past with the seminal rock band the Clash, we are treated to a slice of life eleven years later on the comeback trail.
Beyond the photo shoots, magazine interviews and press appearances, we see Strummer struggling to break through again.
In his humble quest, we even see Joe handing out flyers on the boardwalk and making a cold-call visit to a New Jersey radio station one saturday afternoon in order to get his latest CD on the air and attract fans to his concert.
The film features live performances of songs from The Clash as well as material written with his new band, The Mescaleros.
Part of the daily excitement of life on the road includes hanging out with celebrities backstage and taking the time to give every fan his due respect. A live studio recording is also featured in the mix.
As the film unfolds we begin to see Strummer reaching his goal. This is complimented by his philosophical waxing on life, music and the lessons he has learned along the way.
More importantly, however, is the intimate portrait depicted.
For all of his fame, the life of Joe Strummer was one of a genuine working-man. He is a salt of the earth guy following his passion with 100% effort, and this above all, makes him the true hero he is.
LET'S ROCK AGAIN! was produced by Strummer and Dick Rude, a long time friend who also directed the film.
Strummer's cooperation and comfort with Rude opened the door to an exclusive view of the legendary man never before seen.
At the close of 2002, the world lost Joe to a congenital heart condition. LET'S ROCK AGAIN! is his final message, a story about never giving up.